Meet Yelba Perez Saballos, our Head Sommelier
By Matfen Hall
August 04, 2023
Announcement
In the press
We catch up with Yelba Perez Saballos, our new Head Sommelier. Yelba brings a wealth of experience to Matfen Hall and  will be hosting private and premium tastings of some of the world's finest wines in our Wine Cellar.
How long have you been a Sommelier and what first drew you to working with wine?
I have been linked to the world of wine since my first sommelier class at the hospitality school more than 10 years ago. I was fascinated from the beginning, as the story around it captivates me completely, and although my career has been quite varied in terms of positions in restaurants, wine has always been my priority when choosing external training.
My first great opportunity came in my previous place of work. There, I had to manage more than 350 references of wine. I was able to experience the prestige of opening legendary bottles. In my current role at Matfen Hall, I look forward to the evolution and development of our wine list and I intend to create something truly extraordinary.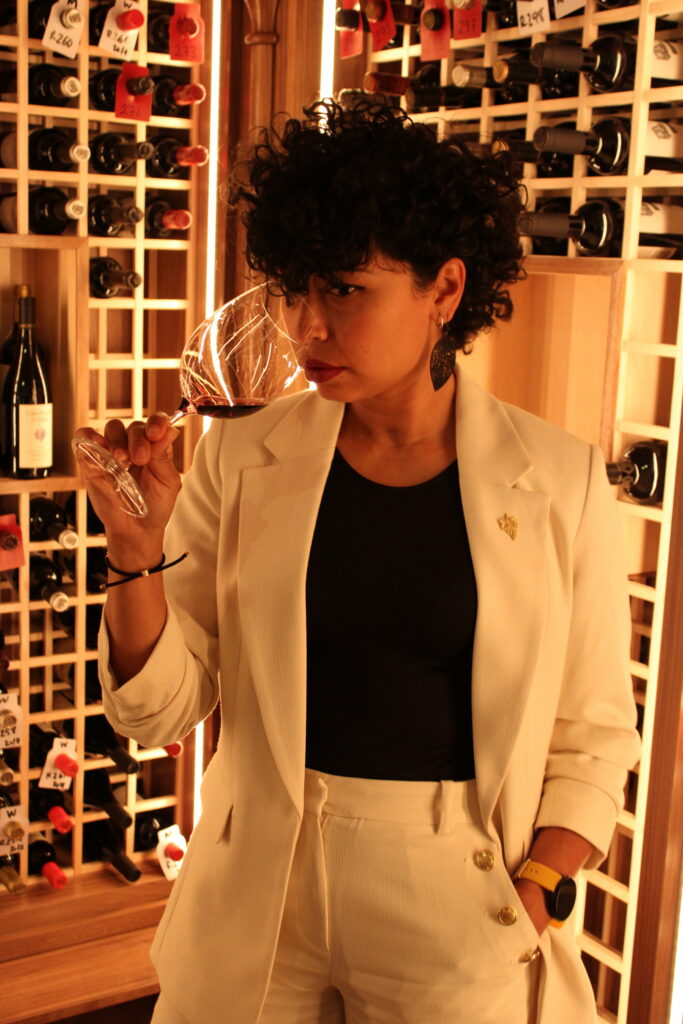 What can people expect when they join you in the Wine Cellar at Matfen Hall for a tasting experience?
The guests can expect a wide selection of wines matched to their preferences. I carefully select these after a small greeting where the guests enjoy a glass of Laurent-Perrier Champagne. I always recommend a selection of two white wines for them to try, as well as two reds and one for dessert to close the tasting.
We discuss the differences between completely different wine profiles and talk about how, if we were to select them in separate situations, we will probably enjoy them for different reasons.
We then analyse each of the steps needed to fully enjoy a glass of wine at the highest level, transporting the guests to a specific moment in which the expression of that wine increases and is enjoyed even more. We must understand that each wine has its moment and I guide the guests to experience that moment with the wine.
What's the most important part of a wine-tasting experience, in your opinion?
Tasting and enjoying a glass of wine while being fully informed about it makes us appreciate it even more. I feel this creates a change of mentality within the experience, as the guests are enjoying the wine on another level. Learning to enjoy a glass of wine with a relaxed conversation makes a real difference while dispelling any myths and opening the mind.
What's your personal favourite wine?
I don't have a huge, fixed preference. I usually innovate in terms of which wines I sample and enjoy. I like to continuously try new things and I often adapt to the seasons, I also drink local wines when I travel to another country.
At the moment, I am fascinated by the wines of the New World, especially where they are not so famous. I love learning about them and I compare them to wines with a more classic profile. I'm a great fan of fortified wines and I tend to show my pride in the Spanish wines of the new generations. These are just some of the guidelines that I follow in terms of preferences.
What do you love most about being Head Sommelier?
I love travelling with the purpose of visiting vineyards and discovering new cultures through their wines. Meeting professionals with the same passion and involvement is always great fun also. And I get a real thrill from being able to transmit my knowledge to the guests, making it an unforgettable moment.
How do you relax outside of work?
I like to leave phones and watches aside, especially on sunny days. I love to dive into a good book with a glass of wine, while jazz plays in the background. This is what I enjoy doing the most. But at the same time, I love to explore new restaurants and wine bars, to get some new ideas.
Discover a new way to enjoy wine by organising a private wine-tasting experience in our charismatic cellar. Find out more here.